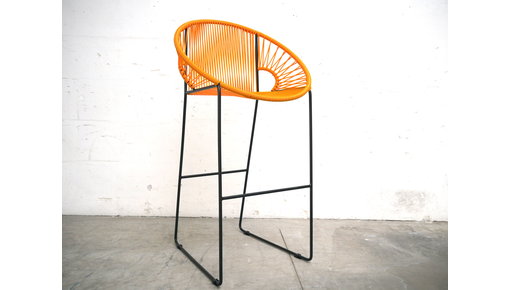 Luna barstool, seat height 75cm
The luna barstool has a very comfortable seat with arm support. The Luna barstool can be ordered in many colours and is also suitable for outdoor use. Email us if you want the seat height adjusted!
Read more
The Luna barstool for indoor and outdoor use
This versatile barstool can be used both for your outdoor pool area or as kitchen barstool. The woven seat with flexible cords is very comfortable and the pvc cords are sunlight resistant. This makes the Luna barstool ideal for both indoor and outdoor use. 
The open structure of the seat makes it easy to clean and low maintenance. Use the barstool for your indoor space or as your outdoor/pool area barstool. No problem to sit on it with your wet bathing suit. Rain, sun or cold, the Luna barstool can be used outdoors for many years!
Match with the Acapulco chair!
Combine your Luna chair with one of our original Acapulco chairs or Condesa chairs and create a colourful set for indoor and outdoor use. 
Adjust the seat height of the Luna barstool
Do you prefer the Luna barstool with a different seat height? Send us an email and we can help you with your order.