Original Acapulco chairs in Spain.
Over the years, Silla Acapulco has delivered original Acapulco chairs to numerous hotels and restaurants in Spain. Due to the high quality of our chairs they are being enjoyed since many years. The chairs are often being used intensively in both indoor and outdoor spaces. We love to share some of the most beautiful locations with you.
Acapulco chairs shining at Chic Sleep in Vejer, Vejer de la Frontera, Spain.
In 2016, Silla Acapulco delivered several black Acapulco chairs for this very special rooftop in one of the most gorgeous town of Southern Spain, Vejer de la Frontera.
As of today the chairs are still shining and being enjoyed by the numerous guests. The hotel is called "La Fonda Antigua" these days but the chairs are still shining on the rooftop after 7 years in the Spanish sun!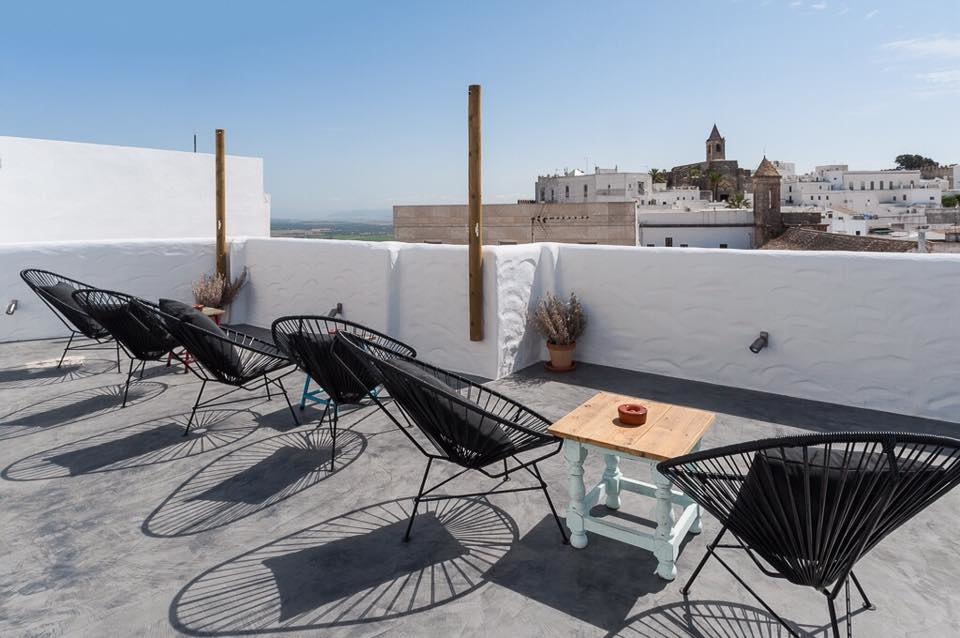 If you are interested in visiting and trying out one of the Acapulco chairs please visit their website to book your stay!
Acapulco chairs in Spain, where to buy your chairs?
If you are interested in purchasing some original Acapulco chairs in Spain, send us an email and we can connect you with some of our local dealers and resellers. They will be able to assist you with advise. 
You can also have a look at and order the different Acapulco models here. 
Shipping Silla Acapulco to Spain.
We ship to all destination in Spain, including The Balearic Islands. For shipments to the Canary Islands please contact us by email.
The quality of our original Acapulco chairs, delivered to Spain.
We only ship original Acapulco chairs, handmade in Mexico according to the original dimensions and with the best quality materials. All our chairs are made with strong frames and uv-resistant and flexibel cords. Our chairs can be used outdoors (and of course indoors) for many years without any specific maintenance.
Contact Silla Acapulco Spain.
For any inquiries regarding your professional project, hotel interior/exterior design or restaurant design, please don't hesitate to contact us. We love to see our original Acapulco chairs in your new venue. Whether it is a home interior, poolside terrace or commercial project, you will love our Acapulco chairs. And so will your visitors..