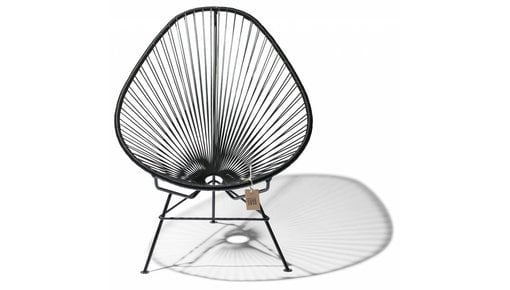 Original Silla Acapulco Chair, 100% handmade in Mexico
Choose Silla Acapulco, choose the real Acapulco chair! High quality chairs with powder coated galvanized solid steel frame. Hand-woven with UV filtered recycled PVC. Suitable for indoor & outdoor use.
Read more
Original Silla Acapulco Chair
Forget about the imitation and choose the one and only Original Acapulco chair instead! All Acapulco chairs from Silla Acapulco are 100% handmade in Mexico. Silla Acapulco stands for Fair Trade, original quality products that are also very comfortable. The original La Silla Acapulco, the Mexican style icon from the 50s, handmade in Mexico, is now available all over Europe!
So if you are looking for the original Acapulco Chair, order it online in just a few quick steps! 
Original Acapulco Chair in various colors
The Acapulco chairs are available in various colors at www.sillaacapulco.com. The original Silla Acapulco chair is also known for its rich and striking colors. Choose the Acapulco chair in your desired color or perhaps mix various colors.
Order an Acapulco Chair Color sample
Do you want to be sure whether an original Acapulco chair matches your desired color? Then order the Silla Acapulco color sample in advance, so that you know for sure whether the color is completely to your liking!
Acapulco chair in a different color?
Are you looking for an Authentic Acapulco Chair in a specific color or is your color not included? Request a quote for your own, custom-made Acapulco chair! We would be happy to look at the possibilities together with you.
Handmade Authentic Acapulco Chair
Are you looking for the Original Silla Acapulco Chair? Then you have come to the right place. All our Acapulco chairs are handmade in Mexico! Starting with the frame, where steel bars are bent by hand into the Acapulco chair shape and welded together to form a solid and sturdy frame.
How are the Original Acapulco chairs made?
The Authentic Acapulco chairs are mainly designed for lounging. And that is why it is important that Silla Acapulco Chairs are also very comfortable in addition to the beautiful design. This has been well thought out in the process from frame to seat!
Would you like to know more about the process and development of the Silla Acapulco chair? Read our blog 'The Original Acapulco Chair: How it's Made.'
Shop Authentic Acapulco Chairs at Silla Acapulco
Craft and Design are united at Silla Acapulco. The Original Silla Acapulco Chairs are made by artisans in Mexico. Often the locals from the neighbourhood also get involved in weaving the chairs at the workshop. At Silla Acapulco we focus on sustainable products with an eye for the preservation of culture, tradition and respect for the environment. We use as much recycled or recyclable materials as possible (black furniture is made of approx. 70% recycled material). Also, almost all rests from weaving are reused to make new chairs, so that there is virtually no waste during production.
That's why you buy the Original Acapulco Chair at Silla Acapulco!